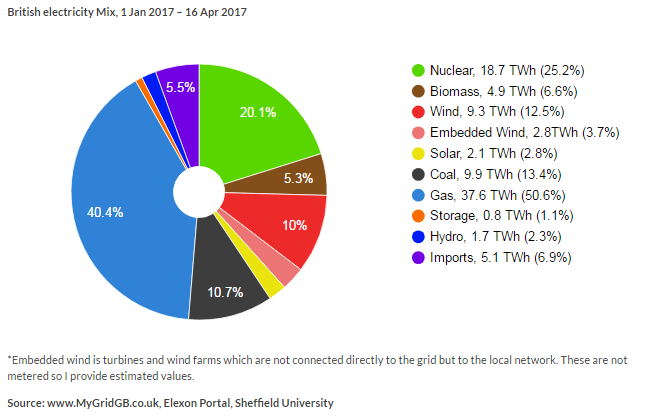 It has been a pretty amazing week for British electricity. At lunchtime on Sunday 9th April, a record 8GW of solar power was powering British homes. On Friday, and for the first time in 2017, all coal power stations in the UK were off, meaning that no electricity was being consumed from British coal power stations.
On Saturday, strong winds and solar combined with low demand brought record volumes of low carbon electricity online, which briefly provided 73% of power. That meant that for only the second time in my record, carbon emissions fell below 140gCO2eq./kWh. In fact, Saturday saw what I believe to be the greenest electricity produced in this country for over a century. I believe this because it is only in the past few years that there has been sufficient low carbon electricity on the grid to give such low carbon intensity (see this blog of mine from March).
These historic events were even more remarkable when we consider that most people would not have even noticed. The lights across the country stayed on as National Grid successfully managed to keep the electricity system working.
New record- carbon emissions right now are an estimated 136gCO2eq./kWh. The previous record was 139gCO2eq/kWh at 2pm on 7th August 2016. WOW pic.twitter.com/NL68q4ia8E

— MyGridGB (@myGridGB) April 15, 2017
The greening of electricity has been made possible through investment in wind and solar as well as a switch away from coal power. According to the Intergovernmental Panel on Climate Change, coal is over twice as polluting in greenhouse gas terms as gas. Switching off coal power on windy and sunny days leads to big reductions in carbon emissions. Overall, coal use is down 29% in the first 100 days of 2017 than in the same period in 2016. Overall, electricity has been around 7% less carbon intensive. I track these metrics on this page on my website.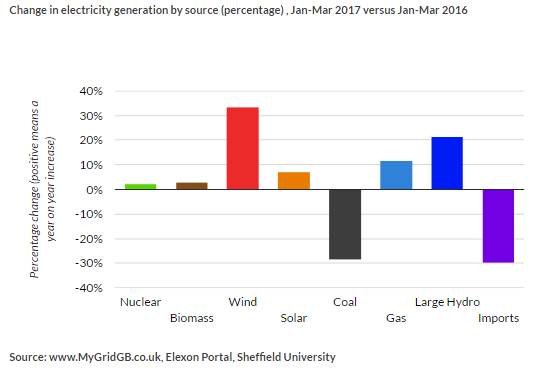 The amount of low carbon electricity generated this week may seem impressive, but it is important to retain some context. So far in 2017 wind, solar and hydroelectric power stations have contributed around 17% of electricity, behind nuclear (20%) and far behind gas (40%).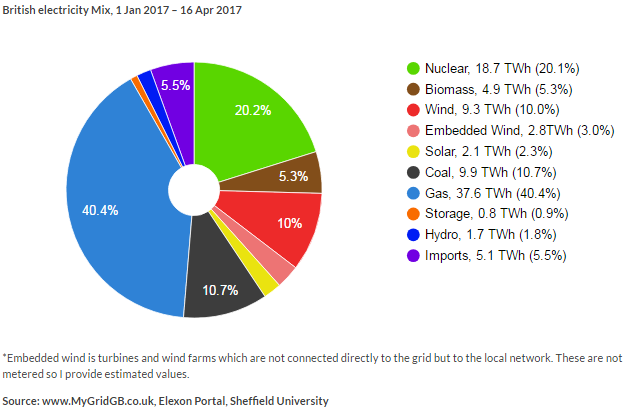 At present, gas is used to provide the flexibility needed to match supply of electricity to demand. It is used to respond to our changing usage patterns, e.g. turning on our ovens on our return from work, and the fluctuations in wind and solar output. Reducing British gas use to meet climate objectives will be challenging particularly as we are so dependent on it for 40% of our electricity and for nearly all of our domestic heat demand. Securing supply will be critical in the coming decades because, as the chart below shows, so much of our gas is imported!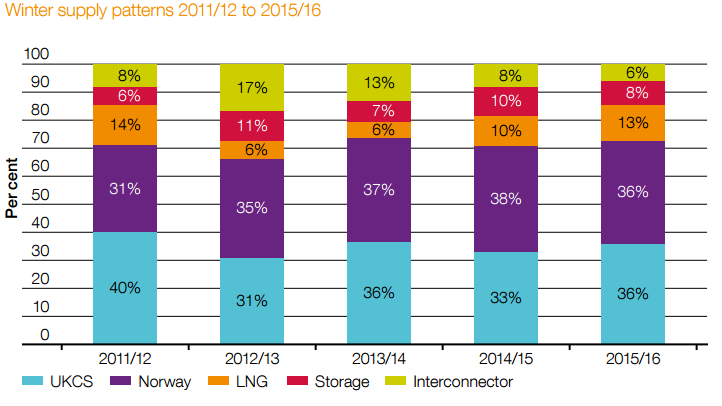 Winter supply of Gas, Source: National Grid Winter Outlook 2016/17
As part of MyGridGB, I try to look at alternatives to our present electricity supply which meet climate objectives. In the MyGridGB Manifesto, I present on proposition which you can read about in this website. Critical to that manifesto is that if we are to use gas in our electricity system we should only try to use it when we need to. We should invest in solar, wind, hydro and marine power to reduce our dependence on gas and not necessarily aim to replace it in the short term.
Besides record amounts of renewables coming online, there are some inklings that gas may have competition in the provision of flexibility. Big batteries are coming online which can smooth short term fluctuations in power. This has been spurred by collapsing international prices for lithium battery storage. A National Grid tenders in 2016 look likely to bring over 200MW of energy storage online in the next 2 years. That is a big number!
The politicians now need to decide whether they will continue to support low carbon electricity or to abandon it at a time when it is beginning to make a big difference. For me, Easter week has been the clearest evidence of all that low carbon power is possible but the rest of 2017 shows us that more work needs to be done.
---
A huge thank you to all the followers and interactions this week. It's been really interesting to read and great to see so many people interested in this important subject. Please do comment on this article if you find it interesting.
Summary
At lunchtime on Sunday 9th April, a record 8GW of solar power was powering British homes.
For the first time in 2017, all coal power stations in the UK were off on Friday 14th April
The carbon intensity of electricity fell to a record low of 134gCO2eq./kWh on Saturday 15th April due to high volumes of solar and wind combined with low demand and no coal generation. The previous lowest was recorded in mid summer 2016!
I believe that electricity on Easter Saturday was the least carbon intensive for over a century.